*old tut moved from my tut site*
This scrap tag tutorial was written by me Diane Knight on 25th May 2009 any resemblance to any other tut is purely coincidental
For this tut I am using the fantastic artwork of Jamie kidd
you can purchase her tubes now from
CDO
for this tutorial you may need a basic knowledge of PSP
mask by weescottlass download from her site
HERE
Scrap kit called 'I know what you are' by Kirstys Scraps you can purchase
HERE
..................................................................
add the mask to your masks folder....
open a new canvas 630 x 670 pixels
floodfill with white..
then
copy and paste paper12 from the kit onto your canvas as a new layer
apply the mask using these settings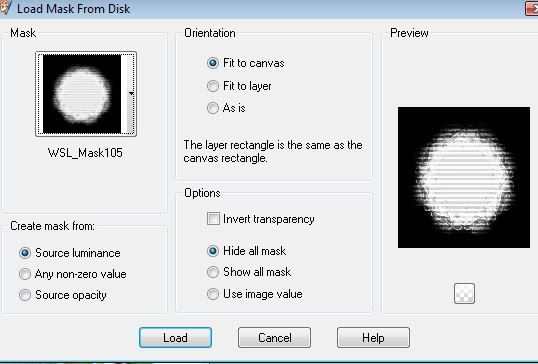 go to Layers merge group
open up the wordart1 shadowed, resize by 80%...
copy and paste greenery5 from the kit arrange just above the wordart
copy and paste ribbon3 from the kit, arrang to the bottom of the wordart
then add the glitterCircle shadowed
now add a tube of choice,if using the same one i used then with your freehand selection tool
select the area that overlaps the GlitterCircle at the bottom..
Then go to selections - modify feather - 25
and hit the delete key twice..
this will remove the excess hanging over the frame at the bottom and leave a soft edge while doing so.
add the chain from the kit and resize by 50%..arrange to the right,
with the eraser tool set to 5, carfully erase small part of the top link so that it looks
like the vine is through the link.
add the cage and resize by 80% add a drop shadow
add the lamp and arrange to the left.
add your name i used P22oley font size 90.
add your ©...
layers merge all
then copy and paste the tag into animation shop
back to psp
click undo to unmerge the tag layers...then on your lamp layer we are going to add the light effect.
do this by going to Effects - illuminatin effects - sunburst
with the following settings...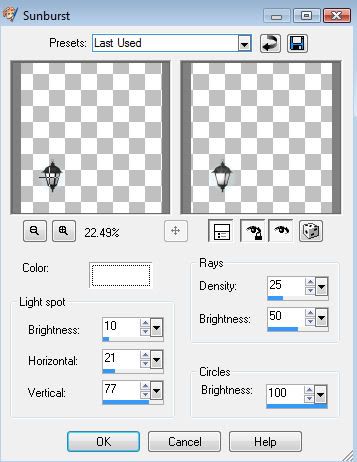 now go to layers - merge all again...
then copy and paste the tag into animation shop this time AFTER CURRENT ANIMATION
NOw while in animation shop, click on the first frame, the one without the sunburst effect..
first change the frame properties to 100..
if unsure how..do this by going to animation - frame properties and change the display time to 100.
ok now go to EFFECTS - INSERT IMAGE TRANSITION..with the following settings....
then go to edit - select all...
then edit - copy, then paste as a NEW ANIMATION..
on this set of frames go to edit - select all....then animation - reverse frames...
now go to EDIT - select all then edit - copy and paste after current frame onto the
First set of frames
delete the last frame..frame18
view the animation, check the light glows then fades...slowly and there are no jumps...
if follwed my directions exactly there shouldnt be...
save as a .gif and you are done x