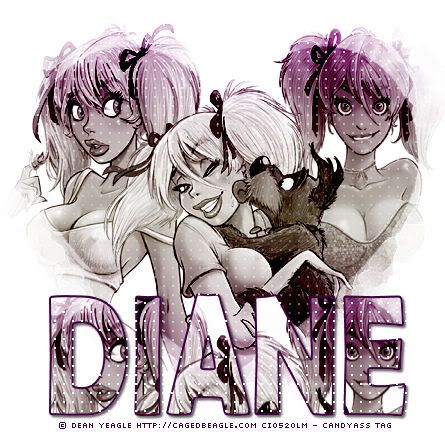 *old tut moved from my tut site*

This tag tutorial was written by me 20/02/07 any resemblance to any other tut is purely coincidental

I am using the artwork of Dean Yeagle you can get his tubes from CDO
however you can use any tubes you like...


tubes and a mask of choice....

I used a heart shaped one

'VIX_MASK13

from

here

thanks Vix hun x...

again you really could use any shape you like, once you know how ;)




once you have chosen a mask to use, make sure it is placed in your masks folder in PSP for use later.
.......................................................
Open raster a new canvas 500x 500
Flood fill with white
Choose 3 or 4 tubes of you liking , and arrange them on your canvas

I added the the middle tube last so it was on the top layer and placed it slightly lower than the other 2
now go to Adjust - hue and saturation - colourise

adjust the hue and saturation both to '0' on for all tube layers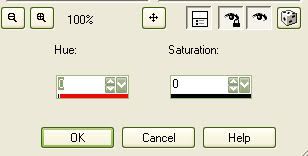 all tubes should now be grey...
X out your white background layer
(hide the visability of this layer on your layers menu by clicking on the eye symbol - As you do not want to merge this layer yet)
now merge visible Layers
* Important - now make your white filled layer visable again *
Add a new layer and flood fill with a colour or Gradient of your choice
IF YOU ARE NOT SURE HOW TO MAKE A GRADIENT TRY
HERE
FOR A GOOD TUT ON IT
I used Foreground HTML no:#400040 and Background HTML no: #e1cfb7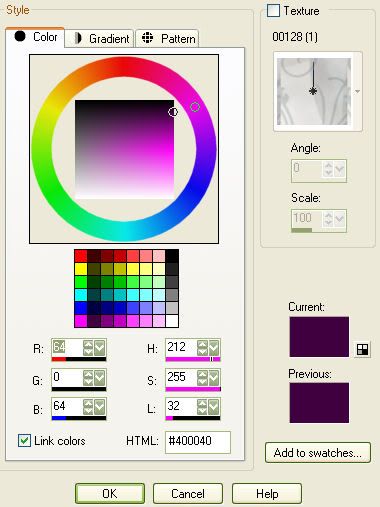 now you have your gradient colours choose these settings for your gradient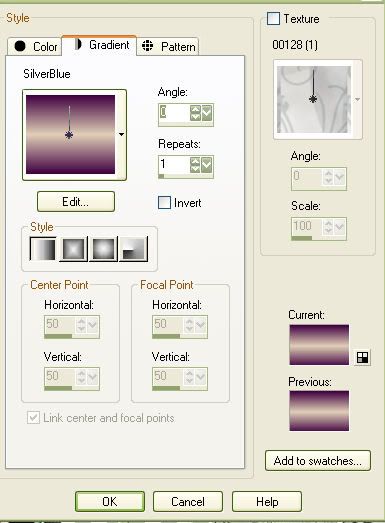 floodfill your canvas then change the blending node to Burn
as shown below
by going to Layers - Properties - Burn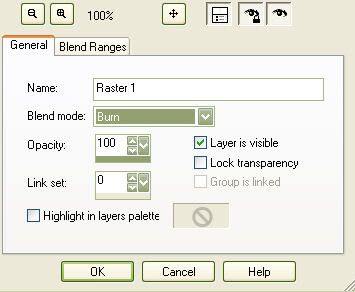 MERGE ALL
Reduce opacity to around 70
Layers - LOAD/SAVE MASK- Load mask from disk
Select your mask in the dropdown with the following settings
Click OK
Right click on your layers and merge group.
now go to Effects - Texture effects– WEAVE
with these settings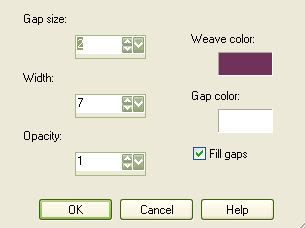 Merge all again
Select this as your fill for your text in the pattern section of background fill instead of a colour and make the foreground the dark purple you used before.
Add your text using a chunky font and stretch out to a nice size so that you see the faces in your words.
I used Berlin Sans FB Demi on the folowing settings

Add a drop shadow I used v2 h2 opacity 60 blur 3 colour #3a283a
hope you enjoyed this tutorial xx