*moving an old tut over from my web site*
This PSP tag tutorial was written by me Diane Knight on 22/03/07 any resemblance to any other tut is purely coincidental
For this tut I am using the fantastic artwork of
Marta Dahlig
I love this artists work… I use what inspires me, and this art really does it for me.
For this tut you will need PSP, animation shop and Alienskin xenofex 2 Plugin, for the sparkle
Get a demo
HERE
.............................................................................
Open a new canvas 365 x500 and flood fill with white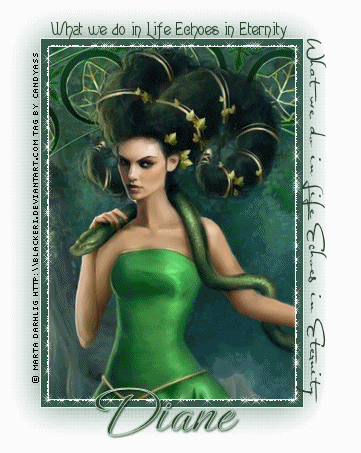 you will need Marta's permission to use her art so if you do not have
her pernission use another image you like
add a border by going to
Image – add borders
you want the settings at 1 pixel all the way round – colour white

Add another border but this time using settings at 7 pixels and a colour from your tube I used this colour #375c4b

Now copy and paste the image with the border as a new layer onto your canvas

Now duplicate your image by going to layers –duplicate

On the original layer, not the duplicated one go to
Adjust - blur - Gaussian blur


with the following settings
then go to
Effects - texture effects – blinds
With the settings below:
then repeat this step with the horizontal box unticked.
Now if you want to, you can add whatever text you would like to add and place it around the tag see my tag for example...
I used the words 'what we do In life echoes in Eternity'
And I used a couple of different fonts but use your imagination its up to you.
Now add your © and your name - the font I used for my name was Ephasis and I believe it's a pay for font so I cant share it sorry
Background a dark green - foreground a light green
Add a drop shadow - I used:
Animation



*Make sure your image layer is selected on your tag*
Now select your magic wand tool see screenshot below:
and click on the green border around your tag.

It should look like little marching ants around your border
Now duplicate your tag 2 times by pressing shift & D at the same time
Now you have 3 tags that look the same in PSP
Click on one of them and go to
Effects – Plugins - Alienskin xenofex 2 – constellation
With the settings below: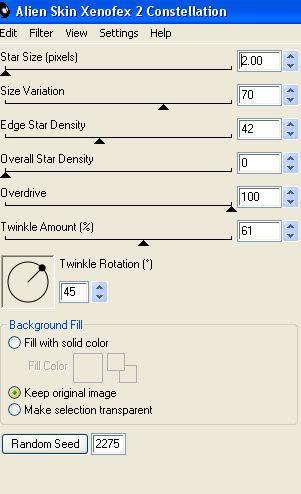 Then click on the next copy and do the repeat this step this time clicking once on the random seed button at the bottom
Now onto the 3rd copy and repeat again clicking once again on the random seed button

Ok, now click on each tag and go to Selections - None
Then Merge All (flatten)

Repeat this for each copy

Now take one of the copies and copy and paste into Animation shop

Then another copy and this time copy and paste after current frame

Repeat with the last copy

Now you should have 3 frames in Animation shop -
save your tag as a gif and your done.