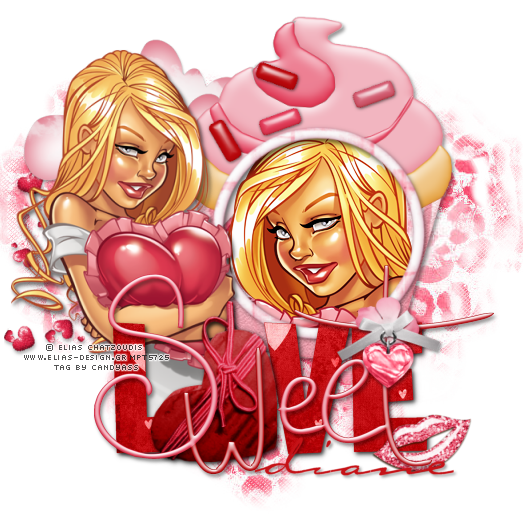 For this tut I am using the fantastic artwork of ELIAS CHATZOUDIS

you can purchase his tubes from

PTE

for this tutorial you may need a basic knowledge of PSP
I am using PSP9 but any version will do
scrap kit is my Candied Hearts freebie available HERE
my blog is HERE
mask used was by weescotslass Mask261 download from her blog
, look tot he left side under my masks HERE
Font used for my name was Carpenter, its a PTU one.
.................................................
Download supplies and unzip them, place mask in your masks folder
now we are ready to begin......
open a new canvas 550 x 550
copy and paste the pink animal print paper from the kit as a new layer onto your canvas
now apply the mask by
going to to Layers - Load save mask from disk ..select the WSL_Mask261
with the following settings.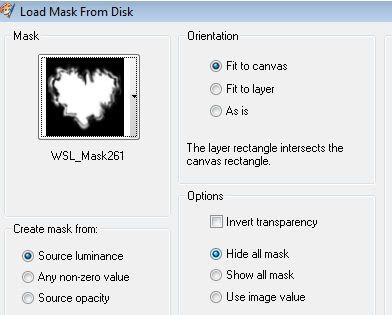 now go to Layers - merge group
copy and paste the clouds from the kit and arrage to the left
open up frame 4 from the kit, resize using smartsize by 80%
now select your magic wand tool, and click inside the frame
now go to Selections - modify - expand by 8 , click ok.
copy and paste your tube of choice as a new layer, once you are happy with placement, got to selections invert and hit the delete key to remove excess..
then go to selections none.
duplicate the tube layer, then change the blend mode to soft light and merge down to merge the 2 layers
now slide the merged tube layer beneath the frame layer.
now add your full length tube of choice, if using the same elias tube as i did, then resize by 80% using smartsize , add a drop shadow. and arrange to the left.
copy and paste 'LOVE2' word from the kit, arrange to the bottom
do the same with the word 'sweet', add a drop shadow of choice.
now make sure that your tube is placed nicely behind the words...
now add the flower2 from the kit resize 70% see my tag for placement.
now open up the lips, rotate left by 20%
simply by going to image - rotate - free rotate left and change the number to 20.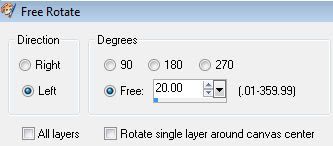 then resize by 50% and copy and paste as a new layer
now add your name with a font of choice
i used carpenter font size 72, background red foreground null
then and the artists copyright
if you are happy save it as a either a jpg or .png and your are done!