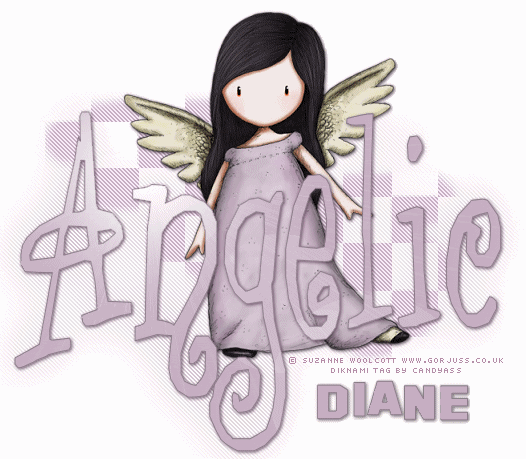 *old tut moved from my tut site*
This tutorial was written by me Diane Knight on 6th November 2007
any resemblance to any other tut is purely coincidental

For this tut I am using the fantastic artwork of Suzanne Woolcott
Her tubes are available for PSP usage from HER STORE
you will need PSP, plugin - penta.com get it from HERE
*Download the one called Garbage Collections WinEMac*
brushes used were from Suzanne woolcott's website HERE
i used the ones called Gorjuss checks
font used was Angelica get it from HERE

............................................................
before we start download all the supplies and add the brushes
to your brushes folder so they show up when needed

open a new canvas 600 x 600
flood fill with white


copy and paste your chosen tube as a new layer onto your canvas
resize as necassary i resized this tube by 90% twice then went to
adjust - sharpness - sharpen...

as when you resize it can blur your image a little. now add a drop shadow I used:

vertical 1 horizontal 1 opacity 80 blur 5 and a very dark purple colour selected.

then Add the word 'Angelic' using the angelica font with these settings

i used a dark purple for the foreground colour and lilac for the background colur.
now stretch it up and out a little so it fills the canvas a little better.

add a new raster layer, and slide it underneath your tube layer ..
now click on your airbrush tool(where the paintbrush tool is)
and select the brush called gorjuss check 3 with the settings as below in the screenshot


now select a colour to compliment your tube i chose lilac again, and click on your canvas a couple times till your happy with the look.
now go to Effects - plugins - penta.com - Jeans with the folowing settings.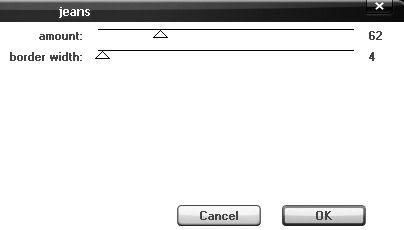 click on your text layer with your magic wand tool click inside the letters while holding down the SHIFT key at the same time. to select all the letters at the same time.
now with the whole word selected
go to Effects - Illumination Effects- Sunburst with the following settings.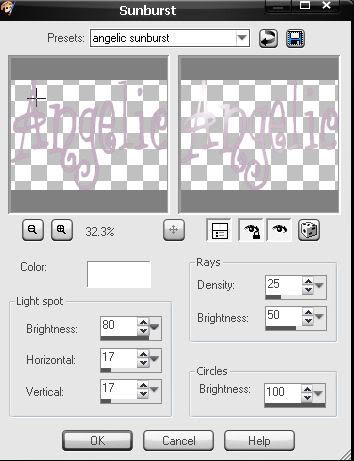 now go to Selections None - go to Edit-copy merged

then paste into Animation shop as a new animation

back to PSP
click undo twice
(this should make your text selected again and get rid of the sunburst you did before)
go to Effects - Illumination Effects- Sunburst
with the same settings as before but this time change the horizontal to 50


then Selections None - go to Edit-copy merged

then paste into Animation shop after current frame




back to PSP

click undo twice

go to Effects - Illumination Effects- Sunburst

with the same settings but this time change the horizontal to 75

then Selections None - go to Edit-copy merged

then paste into Animation shop after current frame

ok now while in animation shop go to Edit- Select all

then go to Animation - frame properties and change the display time from 10 to 25

add your name if desired..save as a gif and your done.

thanks for trying my tutorial




Diane xx