old school tutorial
click on the preview to see the tag full size
.......................................................
you will need the stunning artwork of Barbara Jenson
her own site is
HERE
this tube is from CDO
here
under Exclusive tubes (tube1)


and a plugin called VM Experimental - Every picture tells a story
if you dont have it just google it and install it
a fat font of choice, I used
American Captain
get it free
here
A gradient of choice, find some
HERE
HERE
or
HERE
......................................................................................................
open up a new canvas 700x700 pixels, you can always crop later.
Write the word UNIQUE in capitals with the font american captain
settings -
size 200
set to bold.
background colour set to white / forground null
go to
selections all - selections float
then then add gradient of choice
as a new layer
I used one called fairydust but cant for the life of me remember where i got it sorry.
copy and paste tube twice
as a new layer
(each time) then go to
selections invert
and hit delete key for both tube layers to remove the excess
go to
selections none
then go to
Layers - merge down
this will merge both tube layers onto 1 layer
go to
Layers -Properties
and change the opacity blend mode from
normal to screen
in the drop down box that appears.
you should have something like this

duplicate this layer
arrange so one word is above the other
duplicate again,
and on the very bottom one go to
Adjust - Blur - Gaussion Blur
change the radius value to 10
see screenshot below.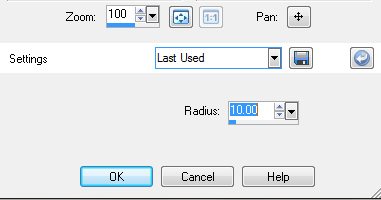 click ok
duplicate this layer and arrange so one blur sits atop the other
make one of your merged text layers your active layers
and apply the plugin
do this by going to
Effects - Plugin - VM experimental - every picture tells a story
using these settings
click ok
repeat
with both 'unique' text layers
add tube using the colours of choice to match your gradient,
there are many to choose from with this tube.
duplicat
e the tube and use the
same plugin
on the bottom tube
and your copyright and your name
font used for my name was Dr Carbfred
background white/ foreground nul
l size set to 72
I also then converted it to a raster layer and added
some glitter/noise
by going to
Adjust- add/remove noise - Add noise
choose
Random /Monochrome
and change the number t
o 30
.
save your tag as a png.