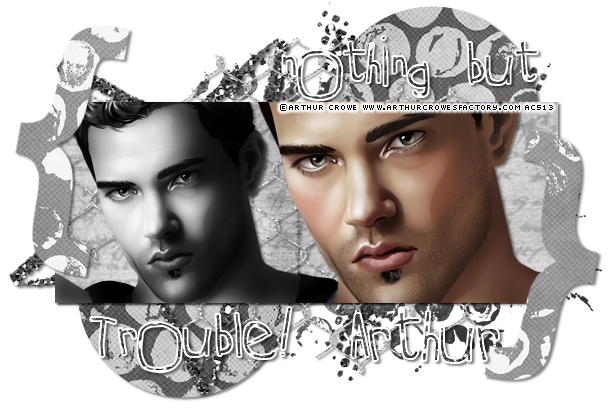 Scraps used my
Shades of Grey
Freebie available on my Scraps blog
HERE
Template 3 byYvette from the creative misfits blog -
HERE
tube is by
Arthur Crowe
called Hot Body you must purchase his tubes to use them
HERE
it comes with layers which has different colour Vests etc... and close ups! very cool!
......................................................................
first open up the template
delete the watermark layer you dont need to keep that there...
and then open up a paper of choice from my freebie (Shades of Grey) I used paper3


make the rectangle layer of the template the active layer simply by clicking on that layer in the layer pallette
go to Selections - select all - select float.
copy and paste the paper as a new layer
go to selections invert
and hit the delete key on your keyboard to delete the excess.
go to Selections none
repeat those steps for all the layers of the template,
alternating with colours of your choosing to match the tube you use
if using my kit resize papers by 80%
remember to deselect your selections by going to
Selections None
*make the rectangle the active layer again and go to
selections - float
copy and paste as a new layer the close up tube
selections invert
and then hit the delete key to remove the excess
selections none
*
*repeat steps for the half body tube
slide this layer beneath the larger tube
make the bottom tube layer greyscale by going to Adjust - Hue- saturation
and slide both sliders to Zero.
(the next step is optional but Im just trying to let you know all my steps)
use the Xero Radiance plugin on these settings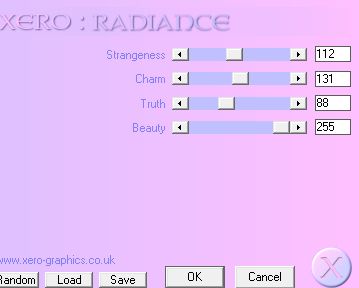 add star from the kit resize by 70% add a drop shadow
I used a filer plug in for alot of my shadows...
go to Effects- Plugins - AlienSkin-EyeCandy 5 Impact
and use the following settings...
ele14 resize 80% add shadow
add ele4 resize 80% send to bottom layer
ele22 resize 80% send to bottom layer
I deleted the actual word art layers on the template and typed my own...
do this by......write out the text 'nothing but'
with a font called
Two Turtle Doves
set to size 72
with background glitter fill5 from the kit set to 50%
foreground set to null.
then convert to raster layer....
then
select all - float modify - expand by 2
add a new layer then floodfill with white
selections none
slide the white layer beneath the glitter layer then go to
Layers-
merge down
do the same for the word Trouble
selections none
add artist copyright
add your name
and save your tag with a unique name as a png.