New Tag and tutorial using artwork by Tony Tzanoukakis you can purchase his tubes
HERE
this one is called Vampire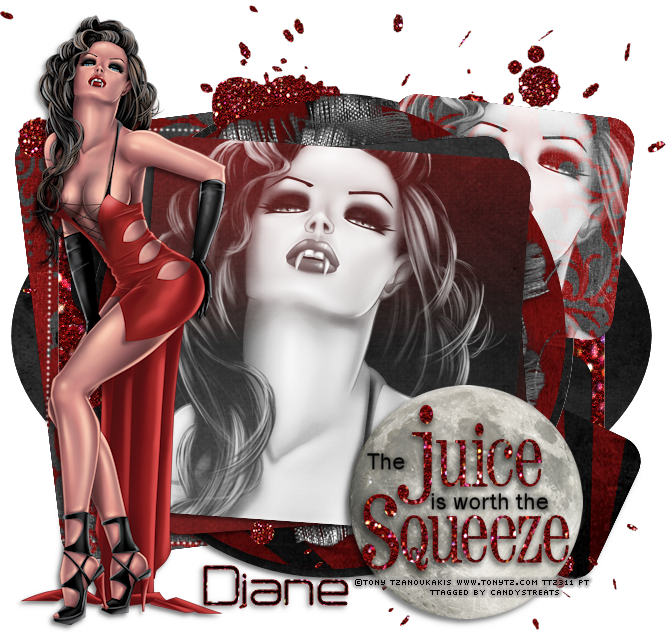 scraps used were by Pimpd Designs - Bad Vamp which is a PTU kit but if you dont have it then probably any red and black themed kit with nice papers will suffice.
Template by Dee called DDJuice from her blog
HERE
....................................................................................
first open up the template

so on each layer go to Selections - select all - float then copy and paste a paper as a new layer
then go to selections invert and hit the delete key to remove the excess paper.
then go to selections none

repeat for each layer of the template.and fill each layer of the template with a paper of choice,
alternate the back and red on each layer
then add the tube, resize the full tube by 35% and add a drop shadow
select all - float the top square of the template and add the tube again and for the close up shot
go to selections invert - and hit the delete key on the keyboard to delete the excess.
then apply the pluginby going to Effects - Plugins - Xero Radiance
and use the following settings on the close up image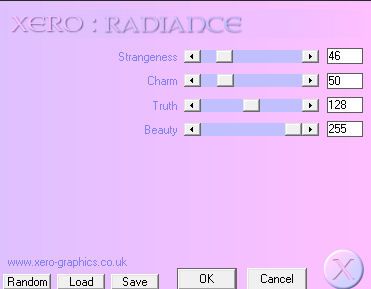 add elements of choice from the kit you are using..
I used a moon and added that behind the word art

I also added glitter spills and a ragged flower beneath the round circle of the template.
I filled the word art with the glitter from the kit.
I used Neogrey Regular font for my name font size 48

black background and a red glitter fill for the foreground set to stroke 1

add the artist copyright and save your tag.