New Tag and tutorial using artwork by Tony Tzanoukakis you can purchase his tubes
HERE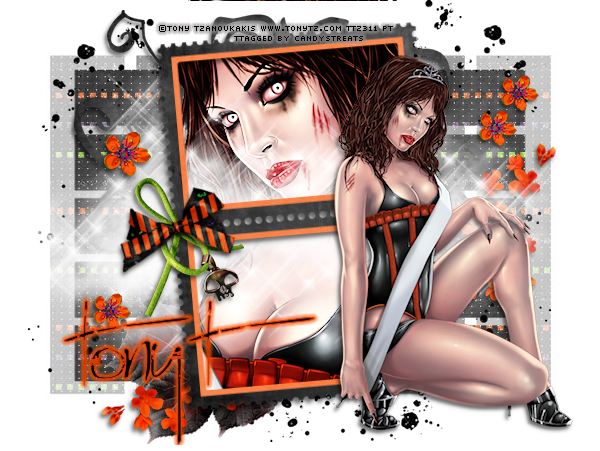 scraps used were by me, Spooky-Licious you can purchase it at
Twiligh Sraps
HERE
or Digital Chaos
HERE
mask used was by VixPsp mask number 250 get it
HERE
....................................................................................
add the mask to your masks folder
open up a new canvas roughly 650x650 pixels
first open up paper called CandysTreats-SpookyGlittermix4 from the kit add as a new layer onto your canvas
then add the mask by going to
Layers - Load/save mask - Load mask from disk
select the mask called
Vix_mask250
and click load or apply depending on our version of PSP.
Layers- merge- merge group
That should give you a nice background to work on...
now in the scrap kit folder look for the frame called - CandysTreats-SPOOKYframe2
copy and paste as a new layer onto your canvas.
then with your
selection tool,
select the entire left half of the frame
and hit the delete key on your keyboard to delete the excess.
go to
Selections none
now copy and paste your image/tube of choice, if using the same one as me, you will find this to be a VERY large tube...so resize it using smartsize by about 30% and slide this tube layer beneath the frame layer..
then make the frame layer the active layer, and using your
magic wand tool
, hold the shift key down and select both openings in the frame at the same time...then go to
selections invert
now make the tube layer the active layer and hit the delete key to remove the excess.
go to
selections none
duplicate the tube/image layer and change the blend mode to overlay..
add elements of choice from the kit,
I used the spooky tree, just select the trunk of the tree with your selection tool and hit the delete key to remove the trunk., add the black glitter spill , add the flowers from the kit
slide all these layers beneath the bottom image layer. and add a drop shadow for depth to each of these layers.
add the green tie and orange bow... add shadows for depth.
the cloud goes over the overlay tube layer but underneath the frame.
then add the full tube resize as needed
add a drop shadow for depth.