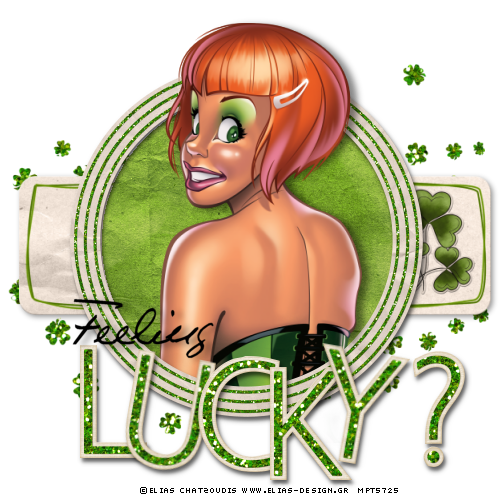 For this tut I am using the fantastic artwork of ELIAS CHATZOUDIS
you can purchase his tubes from
PTE
now but i bought mine when he was at MPT
you will need PSP and this lovely Scrap kit called Lucky me and alpha both by Delicious Scraps which are FREE
HERE
celine dion handwriting font free from Dafont
HERE
..................................
open a new canvas 500 x 500 with a transparent background
open frame2 from the kit, resize using smartsize by 10%
click inside the frame with the magic wand tool, once
selected go to
Selections - modify
- expand by 4
open up the green paper from the kit and resize it by
10% then copy and paste as a new layer onto your
canvas then go to selections invert and hit the
delete
key on your keyboard to remove the excess,
then go to
selections none
.
open up lucky glitter resize by 40% add to canvas then
duplicate and arrange to your liking
open up lucky me clover tag with clover resize by 25%
add a drop shadow, i used the following settings
slide this and the glitter layers beneath the frame and paper layers
add a tube of choice, resize as nessasary depending on
which tube you use, carefully erase the part sticking
out from the bottom of the frame
these are my settings for the erasor tool

duplicate and slide the duplicate beneath the frame layer,
then make the top tube the active tube simply by clicking on it, add a drop shadow now then with your erasor tool erase the area that overlaps the bottom of the frame...untill it
looks tidy at the bottom and her head appears to come
out of the frame like mine.

open up the alpha
resize each letter by 25% using smartsize
add a drop shadow to each, i rotated the letters 'U'
and 'Y' to the right by 10 to make them appear crooked

write out the text 'Feeling' with a nice script font of choice,
i used a free one called celine dion handwriting available free
here
add a drop shadow same as before
now its time to add your name and artist ©
if you are happy save it as a .png and your are done!