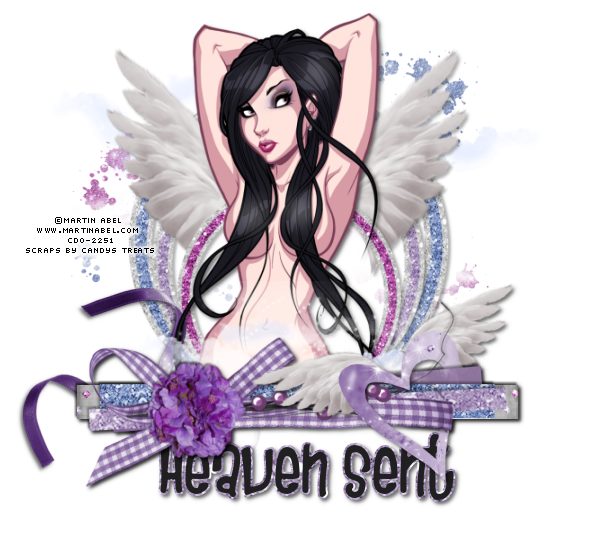 for this tutorial I used PTU Wings of Love scrap kit by me my blog is
here
you can purchse from either
digital chaos
or
twilight scraps
Artwork by Martin Abel, which you can purchase Individual tubes at CDO
HERE
Heartbreaker font - free
here
open up a new canvas 600 x 600 pixels
open up the glitter splats from the kit, resize using
smartsize by 80% copy and paste onto your canvas
and arrange in the centre
open up clouds2 from the kit and resiz by 80% arrange in the centre
open up frame 13 from the kit resize by 80% using smartsize
copy and paste onto your canvas arrange in the centre
open up the lightbeam from the kit copy and paste onto
your canvas arrange in the centre
open up curly ribbon3 from the kit, free rotate right by 90%
then resize by 60% add a shadow and arrange to the left to the bottom.
open up ribbon cluster from the kit resize by 80%
arrange to the bottom of the frame add a shadow
add a tube of choice, resize if nessasary,
then slide the tube layer beneath the ribbon cluster add a drop shadow
now add more clouds and resize by 60% and slide these
clouds so that they are above the tube layer but below the ribbon cluster layer.
add heart element 3 from the kit, resize by 70%
arrange this layer just below the ribbon cluster...duplicate this layer,
then slide this to the top layer and with your erasor tool erase the
right side of the heart with wings. so that it looks like it is threaded through the ribbons..
now for the text using heartbreaker font
1st open up the glitter tile4 from the kit,
make this yourforeground pattern in your material pallette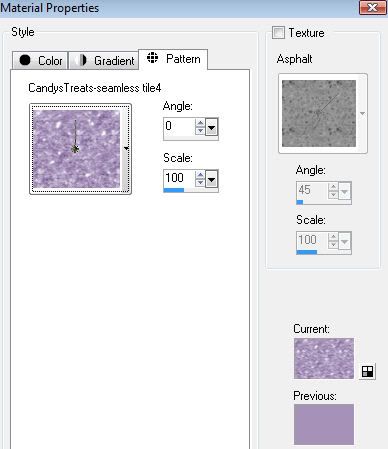 background fill on dark grey so now your material pallette looks like this....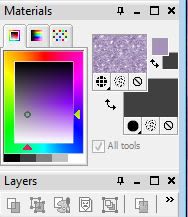 set your heartbreaker font to size 48 , stroke 2 settings as below

add a drop shadow
your copyright ...your name or preffered text
thanks for looking,
till next time diane x